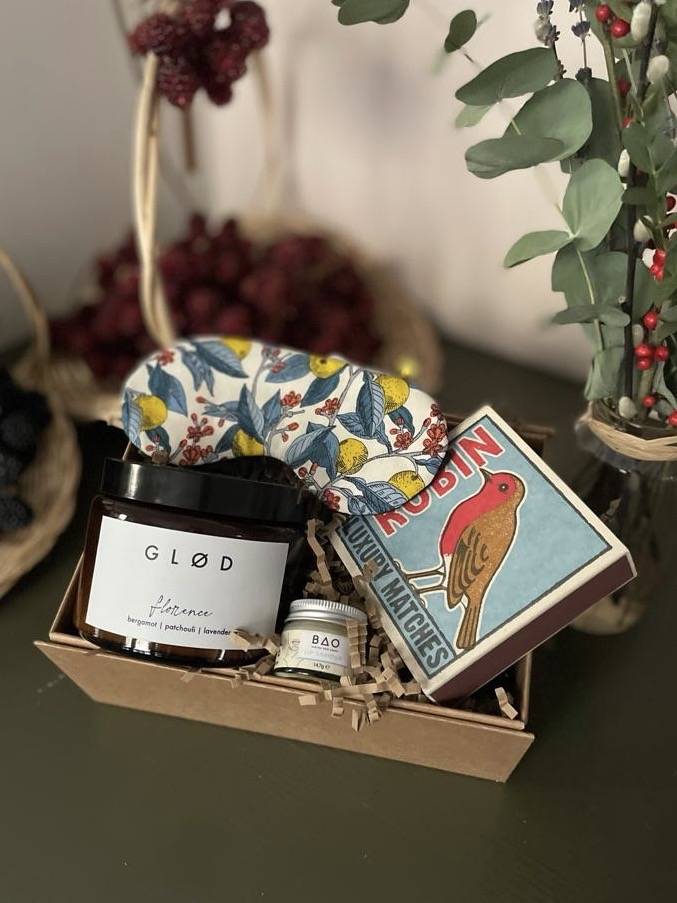 Our limited-edition gift collection is now live in our online shop! This means that, for us, Christmas has officially landed, the tree is going up and from now until January we will never knowingly be more than a metre away from a mince pie or a box of chocolates!
Whether you're ready to fully embrace Christmas or not, chances are you're at least starting to think about ticking off your gift list. If you're stuck for inspiration on what to buy the candle lover in your life, be sure to check out our exclusive range of gift sets, which includes everything from smile-inducing stocking fillers to the ultimate in me-time treats.
Each set features one of our hand-poured candles along with beautifully made complementary products, presented together in a luxury gift box (unbranded, so it can be reused or regifted) and delivered complete with a ribbon and tag.
Simply decide which set you'd like, choose between three of our best-loved scents (Florence, Malala and Ivy) and your work is done!
WHAT'S IN THE COLLECTION?
The Ultimate Self Care Gift Set – £56
As the name suggests, this indulgent gift is perfect for anyone who deserves some serious chill-out time. The set includes a large soy wax candle (burn time approximately 70 hours), a wonderfully soft cotton eye mask in your choice of print, long matches in a vintage-style box and a BAO Lip Saviour to nourish, soothe and repair lips.
Medium Soy Wax Candle, Eye Mask and Matches – £35
Give the gift of soft candlelight, a blissful scent and time out to relax. This set includes our medium soy wax candle (burn time approximately 50 hours), a printed-cotton eye mask and a luxury box of long matches.
Medium Soy Wax Candle and Eye Mask Set – £30
This delightful duo comprises our medium soy wax candle (burn time approximately 50 hours) and a printed-cotton eye mask to help them zone out in style.
Small Soy Wax Candle and Lip Saviour – £18
The perfect stocking filler! A small soy wax candle (burn time approximately 35 hours) together with an organic lip balm from BAO Skincare.
Soy Candle Gift Set – £35
If your recipient is all about the candles, this is the set for you. Featuring one medium and two small soy wax candles, it's the ideal way to gift all three of our signature scents.
Gift-Wrapped Large Soy Wax Candle – £36
Do they already have a fave GLØD candle? Gift them up to 70 hours of the scent they love with a gift-wrapped delivery of our large soy wax candle.
Matches in a Bottle – £10
Our refillable bottles of long matches make a lovely gift at any time of year, but these Christmas editions add festive cheer to every strike!
FEEL-GOOD SHOPPING
Buying someone a present you know they'll love is always a great feeling, but our gift sets will give you that feel-good vibe in more ways than one…
➢ The eye masks, lip balms and matches in our collection have all been sourced from UK makers. As an independent business ourselves, it's important to us that we shop small and support our fellow indies whenever we can – this year more than ever.
➢ Throughout December, we'll be doubling the donation we make to Women for Women UK, increasing it to £2 for every gift set we sell. Like all charities, Women for Women UK has been hit hard by the coronavirus pandemic, and we want to do as much as we can to help them continue their life-changing work with female survivors of war.
This means that when you choose a GLØD gift set you're choosing to support not only our business (thank you) but other small businesses and an incredible charity too.
Now that's what we call feel-good shopping!